Delaware's resources on building an effective plan to reduce addiction and overdoses in the construction industry.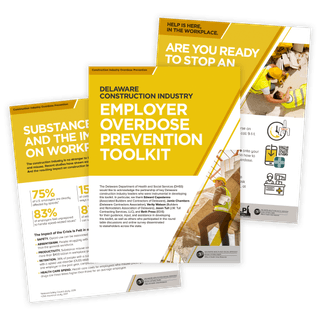 Construction Toolkit
View the entire 44-page Employer Overdose Construction Toolkit for comprehensive details on each training module and for complete data about opioid use and misuse in the construction industry.
Construction Employer Naloxone Request Fact Sheet
Naloxone — also known as Narcan® — can reverse and overdose while it's happening. Learn how you can request this lifesaving medication and training on how to use it for your business.
Construction Employer Resolution Supporting Substance Abuse Awareness
This resolution uses simple language to state your belief in supporting those facing the challenges of substance abuse. Post it where all employees can see it.
Construction Narcan Flyer
(8.5"x11")
Life-saving information about Narcan® — a medication that can stop an overdose while it is happening. Includes details about where to get Narcan and download info for the "How to Use" OpiRescue App.
Toolbox Talk Flyer
(8.5"x11")
Flyer that details topics to cover in a construction workers talk, including opioid facts, resources and help, signs of an overdose and Narcan® use to reverse and overdose.
Employment Engagement Survey Fact Sheet
A short anonymous survey that determines what your employees think about drug policies and attitudes in the workplace. A good way to understand what measures and messages need to be articulated moving forward.
Construction Opioids Training Resources Flyer
(8.5"x11")
Handout for employers and workers describing the free training, technical assistance and information materials available through the Delaware Division of Public Health.
Good Samaritan Fact Sheet
Information about the Good Samaritan law which protects those who are helping someone who is overdosing from being prosecuted.
Employee Important Resources Flyer
(8.5"x11")
Listing of free state programs available to help those struggling with addiction. Includes phone, online, and in-person programs as well as treatment resources and Narcan® ordering information.
How to use this Toolkit Fact Sheet
A one-page brief explanation on how this toolkit can be helpful to construction businesses. It also describes how the tookit is oganized in modules, covering specific aspects of how employers can address the opioid crisis in their workplaces.
Module I: Leadership Commitment and Planning Fact Sheet
The first toolkit module offers guidance on: How to establish your own plan, selecting a working team, meeting frequency and key decision-makers, developing a company resolution and role-specific resources for human resources, safety professionals, supervisors, and employee education.
Module II: Develop and Implement the Plan - Employee Assistance Programs and Health Care Benefits Fact Sheet
Part of Module II is a section about Human Resource policies and health care benefits. Subjects include how to develop a clearly written policy related to substance use, drug testing, Employee Assistance Programs (EAP) and more.
Module II: Develop and Implement the Plan - Policies Fact Sheet
The second toolkit module helps you understand how to implement your plan of action beginning with education and training.
Module III: Sustaining and Keeping your Program Current Fact Sheet
Module III includes information such as: Determining success measurement, regularly assessing employee engagement and awareness, consistently sharing messages about what to do if workers need help with a drug-related issue, ensuring training of managers and supervisors on overdose education and naloxone, donnecting individuals to treatment and recovery support and more.
Narcan Reversal of an Opioid Overdose Poster
(11"x17")
This poster will help your employees understand the importance of carrying Narcan®, a medication that can reverse an overdose while it's happening. Included are download details for the OpiRescue app, signs of an overdose and where to get Narcan.
Narcan Spot and Prevent an Overdose Poster
(11"x17")
A poster that shows the signs of an overdose, what to do if you spot an overdose happening and how to download the OpiRescue Delaware app.
Narcan Stop an Overdose Poster
(11"x17")
This workplace poster offers information on how workers can use Narcan® to stop an overdose. Details are also included about how to download the OpiRescue Delaware app and how to get Narcan.
Fentanyl Alert Flyer
(8.5"x11")
Drug warning that alerts those who use street drugs to be aware of the possibility of deadly fentanyl being added. Facts include strength of fentanyl, overdose statistics and more.
Opioids and the Construction Industry Fact Sheet
A fact sheet that offers data, resources, and reports about substance misuse in the construction industry, along with training programs available to employers, and how to reduce stigma on job sites to encourage treatment and recovery.
Substance Abuse and the Impact on Workplaces Fact Sheet
Valuable education on what is addiction, the definition of a substance use disorder, how prescription opioids are fueling the opioid epidemic and symptoms of an opioid use disorder.